5 Korner Security Strategies for Safeguarding Residential Parking Lots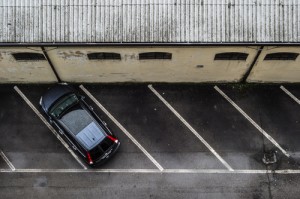 Securing buildings both inside and outside are paramount to building operators, landlords, and their residents. Concierge security guards are often stationed strategically at building entrances to monitor comings and goings. However, the people who reside or visit parking-lot-equipped destinations want to feel safe on the entire premises – and that includes the area where they park their vehicles. So, the question is: While the rest of your facility may be secure, how well-monitored is your parking lot?
Limit crime on your commercial property >>

Beef Up Parking Lot Security
A parking lot is an amenity. Securing a parking lot can be a challenge. Ensuring safety for the people who frequent this parking area is a big job for any armed security guard.
In addition to having uniformed security guards on-site who are dedicated to monitoring the parking areas alone, the following tips can help your visitors, residents, or employees feel more confident about their belongings and their own safety:
Use a secure entrance: Create gated and secured access points to a parking garage. Residents can be issued garage door openers. Visitors will be required to speak to a guard for clearance before being permitted into the lot.
Limit the number of access points: The more ways to enter a parking area, the more convenient. Unfortunately, more entrances also mean more opportunities for criminals to enter and exit unnoticed, especially after-hours.
Combine in-person security with technology: Security cameras are an incredibly powerful crime deterrent. But cameras are fallible, and they can be tampered with. Combined with the watchful eye of a security guard, though, the pair can keep criminals at bay, monitor more distant areas or stairwells or elevators in real-time, and offer critical historical data when needed.
Equip with adequate lighting: Poorly lit parking lots invite trouble. Criminals will seek out areas that are not well-lit. The simple addition of illumination can keep problems from even being considered by someone who has anything but good intentions.
Add speed bumps: Parking lots and parking garages, along with being a hotspot for criminals to target, are also a major statistic when it comes to auto accidents. Posted speed limits don't count for much, but frequent speed bumps can keep junk cars operating at a slow speed while strategically placed mirrors will help keep drivers aware of their surroundings.
10 reasons your building needs a concierge security guard >>
Any of these tips can help enhance the safety of your building's parking lot. Plus, security guards, as always, not only make residents feel safer on their home turf, an armed security guard's presence alone can be a strong crime deterrent.
Security guards are aware of the vulnerable areas of a lot or garage so they can be especially diligent about security in these areas. There is also the benefit of familiarity. Security guards will get to know residents and regular visitors, but unexpected guests or shady-looking lurkers will also become familiar too. No crook wants to be recognized by an observant security guard.
Parking lots may look the same, but their operations are unique. Contact Korner Security so we can help you evaluate the gaps in your residential parking security and create a customized security plan.