Car Dealership Security Guards
Car Dealership Security Guards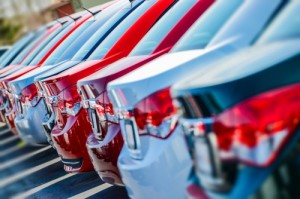 Car Dealership Security Guards are a must for any auto dealer. Car dealerships are busy places. They are also crowded with millions of dollars of inventory. Vehicles that are sitting vacant are easy and attractive targets for any thief to attempt to steal. What many people are surprised to learn, however, is that car dealership theft doesn't only occur at night. Car dealership theft often occurs during the day, during business hours, when there are plenty of staff members on site. But auto dealership staff have their own jobs to do, and worrying about the security of their place of business shouldn't be one of them.
Car dealership security guards are able to keep watch over the activity surrounding your car dealership 24 hours a day, serving as an effective deterrent to thieves and vandals and allowing you to run your business smoothly, effectively, and without interruption.
Common Items Stolen from Car Dealerships
Vehicles are being driven on and off the lot of auto dealerships throughout the day. A car dealership employee is typically in the vehicle at all times with the temporary driver, but there are always opportunities for particularly clever thieves to drive away with a brand new vehicle in the middle of the day. And some dealerships find themselves in the unfortunate position of employing individuals whose goal is to help others steal inventory from the lot during their working hours.
While car theft isn't uncommon, what many dealerships end up having to manage is the theft of less obvious items, like tires, wheels, catalytic converters, and other vehicle parts that may be housed in one particular area of the dealership or left unattended in the auto body shop.
Proprietary information is also at risk, with dozens of computers and technology standing by inside the dealership, providing details about customers, financial plans, ordering details, and company information. Theft doesn't have to be the size of a vehicle to be considering significant.
Car Dealership Security After-Hours
Unless you have a gated or fenced car dealership, you can expect that your dealership's lots will see their fair share of "window shoppers" after hours. Much of the time, these are well-meaning potential customers who simply want to get a good look at the merchandise and the prices of vehicles without being pressured by a sales person or crowded by other car shoppers.
Sometimes, however, criminals are looking for the darker areas of a dealership so that they can do their dirty work and drive away with the goods they want. After all, the great majority of an auto dealer's merchandise is outside, available for thieves to attempt to capture.
Having a security guard physically on-site after hours is a powerful defense against would-be thieves and vandals. A security guard is able to greet and acknowledge the presence of someone on the lot – be it an after-hours shopper or a criminal – and they will have the ability to identify a person should need be in the case of troublesome behavior.
A 24-7 security guard is a car dealership's way of protecting their investment against all types of threats to their business, whether it's a person attempting theft, hazardous weather-related problems, or vandals looking to do serious damage to a thriving business.
Why Hire Car Dealership Security Guards?
The mere presence of a security guard on the premises is often enough to make a thief think twice before going after the loot they crave from a car dealership. But a security guard, besides actively participating in the protection of your property and inventory, is also able to manage other jobs that are incredibly helpful to an auto dealer's bottom line, including:
Taking note of atypical activity throughout the dealership, looking for patterns in activity, notifying the appropriate parties of untoward activity, and taking action.
Identifying, evaluating, and addressing potential threats quickly, efforts that typically halt criminal activity before any damage can be done or thievery completed.
Deploying effective criminal deterrents such as strobe lights, alarms, or audible announcements.
Offering peace of mind that the dealership is in good hands during business hours and after hours.
General anti-theft measures conducted by auto dealership security guards can also include:
Patrolling the auto dealership by foot or vehicle.
Making a record of visitors, deliveries, and vehicles that enter and exit the dealership.
Keeping watch over the highest-value inventory and supplies.
Monitoring entrances and exits after-hours and, if need be, securing them against after-hours shoppers or intruders.
Conducting routine inspections of the dealership and the perimeter for security breaches.
Keeping watch for suspicious activity or atypical dealership visitors.
Creating daily security reports.
Hire Korner Security for Detroit Car Dealership Security Guards
Whether you have the smallest or the biggest car dealership in Detroit, hiring auto dealership security guards protects your business and inventory from troublesome behavior and criminal activity. There is a lot going on at a car dealership every hour of the day, and crowded and busy lots make it difficult to police the area for the untrained eye.
Discuss your auto lot needs with an expert to determine the type and level of car dealership security you need. Contact Korner Security today.