Front Desk Security Guards
Concierge / Front Desk Security Guards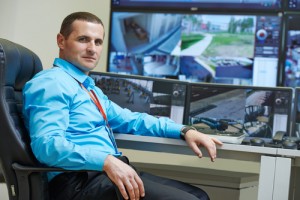 Hearing the term "concierge" may bring to mind hotels. The term "front desk" may make you think of a doctor's office. But office buildings and apartment buildings are actually the places that most often make use of concierge/front desk security agents who keep watch over the comings and goings of building occupants and activities throughout the premises.
Concierge security officers are a special breed of professional who provide both security and hospitality services. The officers are responsible for delivering a high level of customer service for guests of whatever facility they are stationed at, while also providing protection for the occupants of the building and safeguarding the property. Your office building, apartment building, or otherwise is in good hands with the assistance of a highly trained concierge/front desk security agent.
Duties of Concierge/Front Desk Security Agents
The concierge officers are tasked with a wide range of duties that makes their job a very detailed and important one, giving peace of mind to the people in the building they guard. Duties can include:
Greeting, checking in, and directing visitors
Enforcing access control and assuring that only authorized personnel enter the building
Monitoring operational procedures
Maintaining constant surveillance of assigned areas
Protecting the property from theft, accidents, fire, and other threats
Providing customer service for residents, visitors, and/or guests
Writing accident and incident reports for any suspicious activities or safety hazards
Responding to calls for assistance
Checking bags and packages, as needed
The Unique Appeal of a Front Desk Security Guards
Front desk security guards manage a great number of tasks at one time and are often responsible for monitoring a large amount of territory. Efficiency, patience, and an ability to multitask are all necessary skills for a concierge/front desk security guard.
Concierge security guards are often the people who take the brunt of abuse from site visitors, particularly those who are deemed unwelcome. The guards enforce the rules of who can and cannot enter the premises, and this can lead to plenty of ill feelings and, potentially, bad behavior or retaliation by the rejected visitor or guest. Front desk security guards are carefully trained to handle all manner of threats to your facility so that the residents, visitors, or guests remain safe and secure at all time.
From roving patrols to standing or static post security, from special event management to pedestrian and traffic support, concierge/front desk security guards have experience with personal safety escorting, custodial transfers, process serving, keeping the peace, and investigating suspicious situations.
Places That Use Concierge/Front Desk Security Guards
Your concierge security guard may be outfitted in a suit and tie rather than a typical guard uniform, but this does not alter his or her duties in any way. Given the nature of your business, a visitor's first impression is likely to be better when the person greeting them is not completely imposing. Or perhaps you absolutely want to instill in all visitors or residents that your concierge security guard means business, and a professional officer uniform is desired. First, it's important to know the message you want to send through your front desk representative, and go from there.
There are many places that use concierge/front desk security guards, including:
Retail or mixed-use properties
Businesses
Parking garages
Medical complexes
Gated residential communities
Sports and recreation facilities
Government buildings
Cultural destinations
Religious institutions
Tourist attractions
Hire Concierge/Front Desk Security Guards from Korner Security
Whatever your area of business, no matter how big or small, a concierge/front desk security guard's position will be customized to serve your facility's unique needs. The mere presence of a 24/7 guard automatically gives your building an extra level of security, warning thieves and vandals that trouble will not be tolerated at any time of day or night.
Being able to offer an extra level of safety to the people who come and go through your building is also an incredible opportunity made possible by concierge officers. Discuss your facility's layout and your needs and concerns for the present and future of your business. Contact Korner Security today.