Vacant Building Security Guards
Vacant Building Security Guards
Security Guards for Vacant Buildings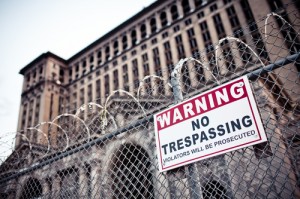 Vacant building security guards are necessary in an economy that is still recovering from the most recent real estate implosion. There are a great many vacant buildings in and around Detroit that needs security guards. These vacated residential properties are often known as HUD homes. They have been acquired by the Department of Housing and Urban Development (HUD) because the previous owners foreclosed on an FHA-insured mortgage. When HUD becomes the new owner of a foreclosed property, they put the home on the market to recover the loss. In the meantime, however, the house or multi-unit building stands vacant. Any empty building is an invitation for trouble, and it is a situation that calls for trained, professional security guards.
The Perks and Problems of Vacant Buildings
The low market value of HUD homes make them attractive to first-time home buyers, real estate investors, and house flippers who see a diamond in the rough. Unfortunately, those diamonds may become really rough before anyone can actually get their hands on the property thanks to vandals, thieves, and squatters. Even former residents of the home, who have likely left on sour terms given the foreclosure, may be so inclined to damage the property to make it less livable for the next interested party.
Because HUD-owned homes are sold as-is, without any warranties, inspections are critical in order to identify any existing problems with the property or potential problems. The biggest concern, however, should be what happened to the property after the former residents moved out and it stood empty for days, weeks, months, or even years. A security guard will know for certain what went on there, and the guard will have protected the property from any threats.
Common Items Stolen from Vacant Buildings
Any house that is on the market, whether it's a foreclosure or a regular sale, is a target for vagrants. Homes for sale that are completely empty – or are advertised with a yard sign announcing "foreclosure" or "short sale" – have even greater appeal. There are wonderful criminal opportunities in completely vacant homes.
Some of the items most commonly stolen from vacant buildings include:
Copper wiring
Pipes
Appliances
Hardwood
Window air conditioning units
Heat pumps
Cabinets
Because HUD houses are offered as-is, the chances are good that the property isn't going to have a working alarm system, exterior lighting to discourage thieves, or reinforced doors and windows. And if the previous owner wasn't able to pay his or her mortgage then it's safe to say they probably weren't prioritizing repairs to keep the home safe. If HUD-owned properties are going to make anyone any money, safeguarding them with security guards is the best way for them to turn a profit before they become a financial drain.
Vacant Buildings Security Guards – why they're needed
Thieves are perfectly aware that no one is living inside of a vacant property. This makes HUD houses incredibly attractive targets because there is less likelihood of being caught in the act of stealing or looting. In any urban area, trespassing is not uncommon. People who are homeless, dealing drugs, or conducting illegal activities may all look for an easy place to reside. And squatters are called squatters because they seek out easily accessed empty homes to set up shop or temporary home. The longer a squatter or trespasser stays in a home, the more likely it is to be damaged.
Beyond the problems that people can cause, there are also natural disasters that can strike a vacant property, and no one will be the wiser for weeks. Hot and cold temperatures and precipitation alike can cause severe damage to the exterior and, sometimes, the interior of a building.
On-site vacant building security guards will ensure that your vacant property does not succumb to Mother Nature or miscreants. At the very least, a patrol guard who is contracted to visit all of your vacant properties at random times every day to check the security and safety of the places will deter vandals or trespassers who have been eyeing the property as their next target or temporary destination.
Hire Korner Security Guards to Patrol Vacant Buildings
Of course it is possible to alert the local Detroit-area police department or fire department in the area where the HUD house or other vacant property is located, but these public officers are not private security. It's not their job to be proactive about the security of a vacant building but rather reactive. It does not matter how small or how large a vacant property is – if you want to make a profit from this foreclosed property, keep it guarded, safe, and in good condition with the help of a Korner security guard.
Discuss your security need for vacant building security guards with an expert to find out what kind of security services are best you're your vacant properties. Contact Korner Security today.