School Security Guards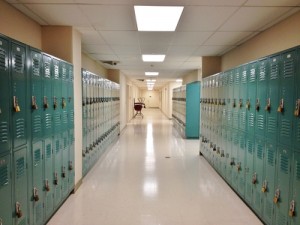 Our society is a volatile one. Terrible events are a reality, even in schools. From preschools to elementary schools, high schools to universities, educational institutions must have procedures and drills in place for lockdowns, shootings, bomb threats, acts of terrorism, and more. The presence of school security guards on your campus, within school buildings, and in the parking lots can help students, parents, educators, and administrators feel protected and safe.
The Duties of a School Security Guard in Michigan
The goal of school security guards are twofold: 1) To protect the school and its occupants in times of trouble, and 2) To discourage trouble from occurring at all. While no one wants any sort of danger to befall a school, knowing that there is a staff of qualified security professionals available and on-site to aid and protect the school can ease minds.
Security guards at schools are not only on duty during school hours, but 24 hours a day, seven days a week. Maintaining a constant presence within the school and on the grounds, including the parking lot, is a strong way to prevent discord and discourage fights, bullying, and acts of violence or retaliation.
The tasks and responsibilities of a Detroit school security guard can include:
Vehicular and foot patrols of the campus buildings, grounds, parking lots, halls, common areas, and classrooms.
Fulfillment of the school's comprehensive security plan.
Traffic law enforcement.
Monitoring of school entrances so that only authorized visitors and personnel have access.
Ensure all school guests follow visitor protocol.
Enforcement of the institution's rules and regulations.
Monitor student entry and dismissal.
Crime investigation.
Active response to incidents, including fights, bullying, threats, or other issues.
Immediate reporting of unusual or suspicious activity to administrators.
Investigation of violations of conduct.
Documentation of incident reports and misconduct.
Locker searches.
Subdue arguments and confrontations before they escalate through conflict resolution, mediation, and, if necessary, force.
Monitor electronic surveillance and security systems including CCTV and alarms.
Additional Roles of a School Security Guard
The appearance of a security guard on a school campus, no matter how big or small, no matter the age of the children being taught, can be a calming force. Part of the job of school security guards is to carry out several roles. It is essential to be an alert, aware, and diligent guard in order to maintain the safety of the school and identify potential threats. However, befriending the student body and staff is also essential in making the school occupants feel secure.
People in uniform may be seen as untouchable. By being accessible and relatable, security guards can become a source of great comfort to a school, gain the respect and trust of students, and even break through the troublemakers to diffuse potential mischief. Relationship-building, particularly with the loners on campus, can eliminate serious threats to the school while helping an outcast feel more accepted and less likely to act out in anger or rage.
The day-to-day activities of a school usually run like clockwork, with everyone knowing where they need to be and when. After-school activities, sporting events, and special gatherings are also important times for security guards to be present. These are the instances when unknown entities, unfamiliar faces, and plenty of visitors will be on campus. The watchful eye of security guards will be on the lookout for troublesome behavior and keep the school secure.
School security guards can also be utilized to teach the students and staff about safety, tolerance, and acceptance. Whether urban or rural school district, there are always additional safety measures that people can learn to protect themselves and their friends from danger, personal threats, and societal hazards. Security guards can be the voice of logic, reason, and caution that young people need to make better choices about their individual safety.
Hire Korner Security for Detroit School Security Guards
Every school has its own unique feel and personality. No matter your reputation for greatness or difficulty, it is critical to have security guards on site, within the halls and classrooms of your institution, on the grounds, and in the parking lot. With school security guards present, your school will be that much safer, happier, and better behaved, keeping the student body, educators, staff and visitors secure within the bounds of the campus. Discuss your Detroit school security guard needs with Korner Security to find out what recommendations will work best for your educational institution.