Industrial Plant & Factory Security Guards
Industrial Plant & Factory Security Guards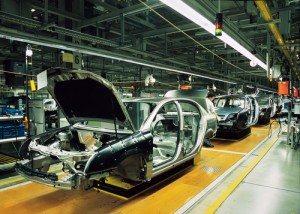 Factory security guards are necessary for plants and manufacturing facilities. Industrial labor facilities are at risk of exposure to unauthorized personnel, dangers, and other security breaches. Continuous and comprehensive monitoring of the production facility and network are essential elements of plant security. Industrial buildings and plants are typically large, busy, crowded environments. Security threats are not uncommon in and around industrial plants and physical plants, whether factory, mill, refinery, packinghouse, or manufacturing facility.
Plant Security Guards Hold the Power of Access Control
One of the most important individuals on site at an industrial facility is the security guard. Critical components and laborers are hard at work in plants, often 24 hours a day, seven days a week. Ensuring that only authorized personnel are within the building's walls and perimeter is a critical job of a round-the-clock plant security guard.
Full-time on-site security professionals are prepared to monitor building access, entrance to sensitive areas, and key card usage. Security guard services are tailored to suit your industry, whether you are an auto manufacturer or bottling plant, recycling plant or saltworks.
Highly monitored access control ensures that a building or plant does not suffer a breach of critical infrastructure or proprietary information. Intelligent video surveillance solutions can be implemented to assist the security guard in his or her control of highly controlled areas.
Sound Security without Sacrificing Quality
Building security must operate around the inner workings of a busy plant, and carefully defined responsibilities and specific training and organization ensure that plant security guards are able to quickly and accurately identify vulnerabilities of the facility without affecting the production process.
Every plant should have customized security measures that safeguard the products, services, or parts they are manufacturing or developing. The need for certain security measures can vary across an industrial area. Plant security guards are trained to know that different areas of a facility may require different types of monitoring and action. This a la carte monitoring system guarantees a high level of security to each area of a plant without negatively impacting employee morale, efficiency, or productivity.
Factory Security Guards for Industrial Plant Protection

Each of the daily and regular tasks of security guards for industrial plant facilities are important for maintaining a well-run and threat-free building. Security guard tasks at a plant can include:
Continuous monitoring of the interior and exterior of the facility by video and by foot
Daily reports of the security conditions of the plant
Verification of all vehicles and all individuals who access the property
Varying patrolling patterns to avoid exploitation of their routine
Regular monitoring of stairwells and elevators
Access control for all entrances and exits, including doorways, gates, and docks
Confirmation of locked doors when not in use
Changing of building codes on a regular basis
Following secure exit protocol for a departing employee, confirming their access to the building has been completely terminated and key cards and the like have been turned in
Your Factory security guards can also be instructed to complete regular security audits to identify vulnerable areas, and potential threats, including physical and informational threats as well as life safety risks to employees and patrons.
Security personnel for plants are also able to be proactive in identifying potential threats and areas that pose security issues, such as landscaping that offers easy access to the building or places to hide, or too many unguarded building entry or exit points.
Security guards should be loyal to the goals and objectives of your plant, but the best guards are also trained to analyze the risks of your facility and make suggestions to remedy areas that are inviting to thieves and vandals. Guards will be able to recommend changes that will benefit the industrial plant, such as:
Upgrades to security checkpoints
Secure improvements to the physical layout of the building and its perimeters
Enhanced lighting to prevent concealment
Alarms that will recognize forced entry, smoke, fire, or water
Improved physical barriers such as fences, gates, speed bumps, and permanent stanchions
Hire Korner Security for Detroit Industrial Plant and Factory Security Guards
Industrial plants are typically not small. In most cases, several security guards will be necessary to fully ensure that your plant is monitored thoroughly and completely. Find out what recommendations Korner Security has based on the needs of your Detroit plant or building. Contact us today.