Strip Mall Security Guards
Strip Mall Security Guards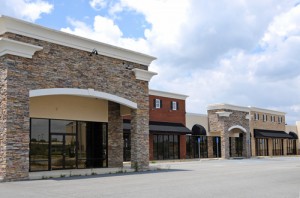 Strip mall security guards monitor retailers, restaurants, and businesses located within the strip mall, and also keeping a watchful eye on the common parking area. Security for a strip mall requires keen observation skills – there are a great number of places where trouble could lurk in a strip mall, at all hours of the day and night. Having one or more security guards in place to monitor activity can be the difference between a heavily frequented strip mall with a great reputation and a strip mall that is pegged as an unsafe area that is best avoided.
Duties of Strip Mall Security Guards
Whether colorful or monochromatic, most strip malls have the same feel – they are busy places and, depending on their mix of offerings, will bring in a diverse clientele throughout each day. The perimeter of a strip mall, particularly back entrances, side doors, and loading docks, is especially vulnerable to break-ins. Tenants of end units may find themselves in prime spots for catching the attention of customers but they may also be bigger targets for criminal activity.
Strip mall security guards have a wide range of duties when on duty at a strip mall. These can include:
Patrolling the perimeter and corridors of the shopping facility
Patrolling restrooms, public areas, and parking lots
Uniformed and highly visible mobile patrols
Plainclothes patrolling and loss prevention
Checking doors and locks in the front and back of buildings
Monitoring electronic surveillance security cameras
Patrolling the inside of businesses and stores
Surveillance of the parking area
Escorting customers or employees to their parked cars when necessary
Emergency response
After-hours patrolling and monitoring
 Strip Mall Security Guards are for Strip Mall Protection
Strip mall traffic ebbs and flows. Coffee shop on site? Security guards will know to expect a heavier block of car or foot traffic in the early morning. Popular restaurants scattered throughout? Weekday lunch crowds will probably be plentiful. Lots of kid-centric shops? Expect crowds on weekends, after school, and in August before school begins. Knowing the details of the strip mall and the habits of its customers is integral to the security guard's position.
Businesses in a strip mall will be even more successful when there is active security. Having a security guard on site at a strip mall gives the message to would-be thieves that the safety and security of the area is taken very seriously. Someone is on the watch for untoward activity, and inappropriate behavior will not be tolerated. On-site security also sends the message to customers that this is a safe place to spend time.
Security guards at a strip mall are not only ensuring the safety of patrons and customers who frequent the area, they may also be hired to keep watch over the businesses within the strip mall during business hours and in between. Knowing that shoplifting, purse snatching, breaking in, or vandalism will be much harder to pull off within the realm of a security guard is often enough to deter a would-be criminal.
Both uniformed and plainclothes security guards are an integral fixture for busy and crowded strip malls. Customers who are aware of security guards or, even if they don't see them, know that they are present within the vicinity, will feel safer walking to their cars, carrying their packages, and regularly frequenting the businesses that are housed within the strip mall.
Customizing Security Guard Training for Strip Malls
Along with receiving training that is specific to customer service, strip mall security guards in Detroit are trained to deter threats that are particular to your property and site plan. The presence alone of a security guard is enough to minimize many risks and crimes, but there are other duties that a security guard for a strip mall is able to offer:
Parking and traffic control and enforcement
Enforcing off-limits and no trespassing areas and pointing out warning signs
Dispersing unauthorized gatherings
Discouraging solicitors
Prevent unauthorized visits
Escort unwanted guests or trespassers from the property
Identify and report hazards from guests, weather, or structural issues
Whatever your strip mall's very specific needs, security guards can be trained to recognize and respond to all threats, problems, and concerns, day or night.
Hire Korner Security for Detroit Strip Mall Security Guards
Strip malls are energy centers or dead zones, depending on the time of day and season of the year. No matter what the situation, a security should be on staff and on-site 24 hours a day, seven days a week. The presence of a security guard helps deter criminals and protect your strip mall while ensuring patrons that they are in good hands. Learn more about what's possible for your strip mall and the safety of your tenants. Discuss your strip mall security guard needs in Detroit with Korner Security.