Security Guard Jobs
Korner Security is accepting resumes for the following positions
Security Officer – This is a uniformed unarmed security guard position.  Openings in Oakland, Macomb and Wayne county locations are available.
Armed Security Officer – This is a uniformed armed security guard position.  Openings in Oakland, Macomb and Wayne county locations are available.
To apply for any of the above listed positions.   Please send resume or work history via email to careers@kornersecurity.com.  A background check will be required for any applicants  to be considered for interview process.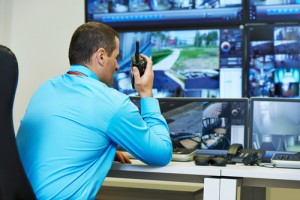 Security guard jobs are simultaneously predictable and unpredictable. While the position requires tolerance and patience, the work of a security guard, from the smallest duty to the most significant duty, is incredibly important. Whether protecting an office building, strip mall, private office, or serving as a personal bodyguard, a security guard's attention to detail makes all the difference between a business's or person's levels of safety or risk, success or failure.
What Makes a Good Security Guard?
In this modern age of ongoing threats and great concern about gun possession, terrorism, workplace violence, and protests, having a dedicated set of eyes and ears on duty is reassuring to both business owners, patrons, or tenants. A security guard career is respectable and the job itself is incredibly important.
Security guards must have a high school diploma or GED, as a minimum requirement. It is also a necessity for security guards to pass both a drug test and a background check. In an ideal situation, security guards have at least some higher education as well as work experience. A military background is not required but it is preferred.
Security guard jobs are a great stepping-off point for individuals who have goals of getting into law enforcement. Veterans who are leaving the military and seeking opportunities to use their knowledge and expertise learned while in the military will find themselves well-suited for a security guard career. Retired professionals are also drawn to security guard work as a way to begin a second career or feel like they are still contributing to the greater good through their new line of work.
What Do Security Guards Do?
Pop culture hasn't done much for boosting the image of a security guard. There is far more to this position than standing in one place for hours at a time or riding around on a Segway looking for trouble.
Security guards are responsible for:
Access control: Who is permitted to enter and exit a building or premises is sometimes limited or very specific. It is a security guard's responsibility to maintain access control so that only the right people are hanging around.
Customer service: Security guards are often the first and last face that people see when they enter a building or place of business. Being polite, courteous, and pleasant with all individuals helps put visitors or residents at ease and positions the security guard as an accessible point of contact. Anyone with a uniform and a badge can be intimidating and, in some situations, that's a good thing, but in more low-key situations, relatability is just as important.
Visitor management: Ensuring that all visitors log-in and log-out of a facility and providing them with visitor passes or badges are essential security guard duties that build a log of building activity should there ever be a question about who was in a building on a certain day or time.
Crime deterrence: Deterring any criminal activity, from trespassing to break-ins to property damage, is one of the most important elements of a security guard job. Having a guard on duty 24/7 is a deterrent in and of itself, but active patrolling of the premises and quick response to untoward activity is a security guard's duty and expertise.
First responders: Whether injury, natural disaster, fire alarm, or any sort of emergency, large or small, security guards manage all incidents that occur on the premises. Security guards are quite often the first people on the scene of a major event and they save lives, retrieve possessions, manage evacuations, secure buildings, and take care of others in times of distress.
Surveillance: Surveillance of a property or building can take a number of forms. Quite often, security guards will be in charge of monitoring video surveillance footage and other electronic security systems, but they are also expected to patrol areas by foot or vehicle in an effort to discourage criminals or trespassers or put a stop to any troublesome activities.
Security guards are called to work in a wide range of circumstances. Some guard jobs last for one day, a week, or a month. Other jobs will be ongoing. From office buildings to stores, schools to defense plants, churches to vacant buildings, construction sites to car dealerships. No matter where he or she is stationed, a security guard is the first line of defense in an establishment's arsenal of protection for their employees and customers.
Requirements to Be a Korner Security Guard
Do you think you're a good security candidate? What its takes for a security guard jobs. While security guard training prepares you to handle a variety of situations or complications that may arise on the job, there are also basic requirements in place. Korner Security guards must:
Pass a background check
Pass a security clearance
Have a valid driver's license
Own a dependable, working vehicle
Have a working cell phone
Be able to sit, stand, walk, or drive for long periods of time
Have excellent interpersonal skills
Be reliable, professional, and flexible to work a variety of shifts
Are you ready to begin your security guard career today? Contact Korner Security in Detroit to learn more about the opportunities that are available for you.