Add Live Korner Security Guards (and More) to Your Rental Properties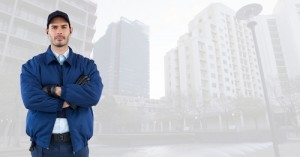 Renters want to feel safe. And as society struggles with emerging threats of gun violence and hate crimes, the desire for a safe environment is more important than ever. Improve your rental properties with basic safety installations and on-site Korner Security guards.
Prevent Problems Early with Tenant Screenings
Rental property crimes are not always committed by outsiders. Tenants may become involved with criminal acts – robbery, drug offenses, etc. – that jeopardize the safety and security of fellow tenants and your overall property. Performing background checks on prospective tenants will enable you to avoid renting out units to individuals with a criminal history.
Set the Tone of Safety and Security with Proper Lighting
Adding lights to your property is an easy way to deter crime. Outdoors, provide lighting in both the front and back of your property as well as throughout parking areas. Indoors, ensure that stairwells and hallways are always illuminated. Install a mix of lights – those that remain on at all times, lights set to an automatic timer, and motion-activated lights – for an environment that feels safe and secure.
Eliminate Hiding Places
Criminals are sneaky, so don't give them easy places to hide. Remove obstructions – such as large shrubs or trees – that surround entrances and block the view from the street.
Equip Your Rentals with Adequate Doors and Windows
Your tenants should be able to trust that the doors to the property and their units are secured. Well-constructed doors should be free of glass and equipped with deadbolts or chain locks in addition to their standard locks. Peepholes provide an added level of security by enabling tenants to see who's approaching without having to open the door.
Doors aren't the only way for undesirable outsiders to get in. Keep intruders at bay with secure windows. All windows – even those on upper levels – should be lockable from the inside. Security bars on lower-level windows can provide an additional level of protection.
Add Security Cameras
Cameras don't lie, and criminals do not want to be caught on tape. Your tenants will feel safer knowing that the property is being monitored by security cameras. Place the cameras at front and back entrances, in common areas, in hallways, and in stairwells.
Security cameras protect your tenants by serving as a deterrent to intruders. But they also protect you from false claims of damage or injury made by tenants or anyone else who sets foot on your monitored rental properties.
Increase Security with the Presence of a Korner Security Guard
Nothing is more effective at keeping criminals at bay than the formidable presence of a security guard. When combined with the above safety measures, on-site security personnel provide an outstanding level of protection.
Choosing the right kind of security guard for your property can be challenging. Should the guards should be armed? Should they be in place 24/7? Do you need security guards only for your large properties with multiple units?
An expert at Korner Security can review your concerns regarding security measures for your rentals. We will provide the best solutions for your needs so that you and your residents feel safe under the watch of a highly trained Korner Security guard. Contact Korner Security to find out if what type of security guard is right for your properties.