6 Reasons to Beef Up Retail Holiday Security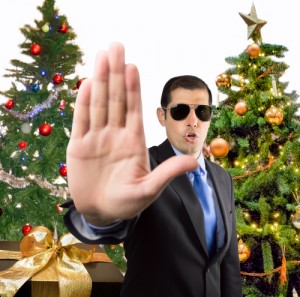 Cybersecurity issues are a serious threat to retailers throughout the holiday season, with hackers poaching store proprietary information as well as customer data. However, it is important not to overlook other security problems that are likely to arise during this busy time of the year.
1. Customer Increase
Customer foot traffic increases from Black Friday through December. That means crowds and, in the case of a great sale or deal, a bit of panic. Store visitors can get unruly in an instant with just the right provocation. Having extra security guards in place to stop struggles or heated moments before they get out of hand will ensure that your customers remain safe, and your reputation is not tarnished by store violence.
2. Opportunities for Theft
While the increase in customers is great for the bottom line, it can also put a dent in your profits. Retail theft is not uncommon any time of year, but during the holidays stealing can occur quite frequently. Some thieves consider it "easier" to shoplift because a store is so busy their swipe won't be noticed. Uniformed security guards stationed throughout your retail operation or at exits are a strong deterrent for thieves. Security guards are also informed about shoplifting tricks and are able to keep watch for dubious behavior. Undercover surveillance can also be effective, especially if you are being targeted by suspected repeat offenders.
4 areas of weakness within car dealership security >>
3. Employee Misconduct
Sweethearting is a retail term that defines the act of a store employee ensuring that a friend or family member enjoys some extra perks or freebies during checkout. The employee will neglect to ring up certain items but bag them anyway, or they will provide a discount that doesn't typically apply to the shopper's purchase. With a great number of temporary holiday workers on staff, this kind of behavior is not uncommon. Security guards can be assigned directly to registers to keep an eye on the behavior of employees and customers alike, from checkout lines to fitting rooms, to reduce theft.
4. Parking Lot Jams
It's not just the interiors of retail environments that need to be monitored. The exterior of a facility – namely, the parking lot – can use an extra level of security. Strip malls in particular can benefit from the trained eye of a security guard who is adept at noticing and putting a stop to any troublesome behavior during business hours and even after hours. Security professionals who patrol the perimeter of a building or a set of shops, combined with guards who keep a static post and maintain a watch on surveillance cameras, ensures a high level of protection for your retail environment.
10 reasons your building needs a concierge security guard >>
5. High-End Security Threats
Upscale shopping areas will find themselves benefiting from concierge security guards who monitor the comings and goings of each guest. The rules of your facility can be defined to suit your needs, whether that includes checking bags, signing in and out, or limiting the number of visitors at one time. A security guard will maintain order while also kindly engaging with and assisting anyone who enters your unique retail environment.
6. After-Hours Hazards
It's not just during normal business hours that thefts and inappropriate actions can occur. Armed security guards can be posted around the clock to keep watch for suspicious activities and persons, putting a stop to vandalism or criminal activities before they have an opportunity to occur.
If you are in need of seasonal holiday security guards, event security guards, or are in search of a better security plan for your retail environment year-round, contact Korner Security today. We will create a customized security plan for your business to help alleviate theft, keep your store secure, and maintain a positive shopping environment for your customers.
Tags: armed security guard, concierge security guard, strip mall security guard, undercover surveillance, uniformed security guard