What to Expect from a Security Guard Job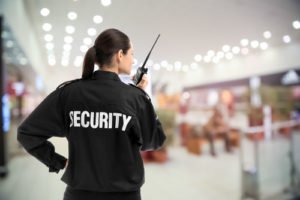 Becoming a security guard is a job possibility for a wide range of people with varying levels of experience. Find out what to expect from a security guard job and whether this type of occupation will suit your personality, career goals, and schedule.
Entry Level and Advancement Opportunities
On-the-job-training is common for many security guard jobs. If this is a field you're interested in entering but you have little to no experience, entry-level positions are always available. Taking additional training courses, such as in first aid and fire safety, as well as earning a permit to carry a firearm will enhance your resume and make it possible for you to advance in the field and work as an armed security guard.
Physical Activity
When people think of security guards, they may envision someone sitting behind a desk and signing people into a building or monitoring foot traffic. Sure, there are sedentary tasks for some security guards sometimes, but overall this job is a physical one. Security guards are on their feet most of the time and do a lot of walking while performing security checks, patrolling the premises, and conducting a variety of tasks that keep them moving.
Work in a Place That Fits Your Personality
Whether you are introverted or extroverted, there is a security guard job that can suit your personality. If you're a people person, you may be well-suited for front desk guard duty in the lobby of an office or apartment building during daytime hours where you greet people while securing their entry. If you prefer silence and isolation and working alone, you may be a better fit for a solo after-hours position guarding a closed car dealership or construction site or otherwise empty building.
Good Experience
Many people who begin in the security guard field do so because they want to get a taste of what it's like to work in this field before they move on to other careers. With a few years of security guard work under your belt, especially as an armed or uniformed guard, you will have a strong resume that will make you a desirable candidate as a law enforcement officer, personal bodyguard, or private investigator.
Flexible Schedule
Security guard work comes with a variety of scheduling possibilities. This field has job availability around the clock, so you can express your interest in the shifts that suit you best. This flexibility makes security guard work an excellent part-time job for people who are looking for a second job or who want to work part-time while going to school or raising a family.
Is a Security Guard Job Right for You?
Security guard jobs are available in many different industries and allows you to protect people, assets, and property. This job is a rewarding one and powerful one. Sometimes, your mere presence can deter potential thieves or vandals and prevent incidents from occurring. People are grateful for the presence of a Korner Security guard and the level of safety they provide. If you are interested in learning more about a Korner Security guard job, contact us today for information.