What Skills Do You Need to Be a Security Guard in Michigan?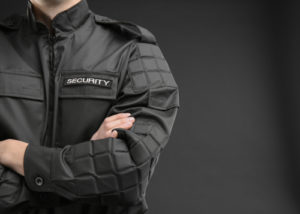 There are some skills and requirements that are necessary to have on paper to qualify for the role of a Korner Security guard in Michigan. There are also characteristics needed that speak more to a person's demeanor, abilities, and personality, to ensure that a security guard job is the right position for them.
To Be a Uniformed Security Guard in Michigan
Uniformed security guards provide an aura of calm and safety wherever they are stationed, whether it be a front desk or hospital, school or strip mall, special event or place of worship. Their presence conveys a message to potential threats that the area they are in is under watch and should not be messed with.
There are basic requirements to qualify as a uniformed Michigan security guard. You must:
Be at least 18 years old
Be a United States citizen or registered resident alien
Have a high school diploma or the equivalent
Submit to drug testing
Pass a background check
To Be an Armed Security Guard in Michigan
The same requirements needed to be a uniformed security guard in Michigan apply for those who wish to hold an armed guard position, with a few additional requirements. You must:
Be at least 21 years old
Be a United States citizen or registered resident alien
Have a high school diploma or the equivalent
Have a Michigan driver's license
Pass a background check
Have fingerprints taken
Pass drug tests
Have not been convicted of a felony or misdemeanor
Have a permit to carry a firearm
Complete firearm training
Armed security guard positions demand a special level of training, experience, and expertise. It is an enormous responsibility to carry a firearm and the position demands restraint, logic, and quick-thinking, especially in times of threat.
Skills All Security Guards Need
You will need certain skills to excel as a security guard. Though the requirements may seem minimal, this is not a job for just anyone. To be good at the work you are assigned to do and provide the kind of protection and observation the role demands, you will need the following:
Communication skills: Security guards are not just gentle giants who stand quietly and observe the people and activities around them. Good communication skills are key for this industry, particularly when you are conveying instructions or orders to large crowds, patrons, guests, residents, or the general public to ensure their safety.
Quick thinking: One thing all security positions have in common is that you never know what the day will bring. Using common sense and quick thinking is critical, especially in times of stress or threat, before a situation gets out of control or someone is hurt.
Flexibility: When you are hired as a security guard, you may find yourself stationed at the same place day after day, or you may find yourself going to different locations depending on your assignments. Conditions and demands will vary based on the client, and you need to be able to adapt to each position's unique needs, whether that means patrolling on foot, monitoring video surveillance, or otherwise.
Become a Korner Security Guard in Michigan
Individual security companies typically offer training in patrol, observation, incident reporting, legal matters, surveillance, documentation, customer service, first aid, and more, so you can feel confident that you will receive the right education and experience to serve as an effective guard.
Contact Korner Security today to learn more about the work of a guard and what it's like to be part of our team. Or fill out an application online.