Rely on School Security Guards During the Pandemic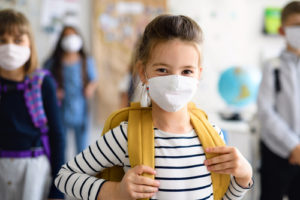 Whether your kids have been back in their school building since September or they're just heading back to school now, general security is always a concern. Now, there are pandemic matters for educators, administrators, and parents to worry about. Adding trained school security guards to your staff makes everyone's lives easier and safer.
The Importance of School Security Guards
The goal of a school security team is to provide a safe environment for everyone on the premises, whether you're working at the preschool, elementary, middle school, or high school level. It is the responsibility of a security team to:
Identify potentially harmful people and situations
Stop heated matters from escalating
Be prepared for worst-case scenarios
Implement and follow rapid response plans
Security guards who build excellent relationships with all members of the school community – while maintaining professional demeanor and behavior – make everyone around them feel safer and more comfortable. These feelings are of particular importance during the pandemic and when working among children who may not have a complete grasp of the dire circumstances around them.
School Security Guard Jobs
Your security guard team can tackle a variety of campus responsibilities, removing these jobs from the plate of already overloaded administrators and putting them into the hands of professionals who can manage them around the clock, including:
Monitoring traffic in and out of school parking lots, gates, and other points of entry
Checking identification
Managing visitors to the building
Enforcing pandemic distance measures, including keeping students six feet apart and preventing restrooms from having more than the sanctioned number of students in them at one time
The Unique Role of a School Security Guard
Making a school security plan begins by assessing your campus-specific risks and security needs. If you've never had a security guard on the premises before, during the pandemic is an excellent time to start since all school measures of safety and security have been heightened. This is a great opportunity to blend a uniformed security guard into your typical safety measures.
Physical security guards protect against physical threats, vulnerabilities, and any issues that may arise unexpectedly. They safeguard the campus grounds – inside and out – while managing traffic control and building access.
The security guards who serve and protect a school campus must have a unique skill set. It is important for them to be prepared to interact with students of all ages and address their questions and concerns. Security guards are just as responsible as administrators and educators in creating a supportive educational environment conducive to safety and learning.
Hire Korner Security Guards for Your School
As education has changed and shifted because of the pandemic and all the challenges this time in the world has created, so too have a security guard's responsibilities. Feel better about the care and education you are providing to your young students by protecting your schools districts and everyone within them with uniformed, armed security guards on-site 24/7.
Contact Korner Security to discuss your educational security needs. We will help you develop a customized plan for your environment.