Plan for Fourth of July Security Guard Coverage Starting Now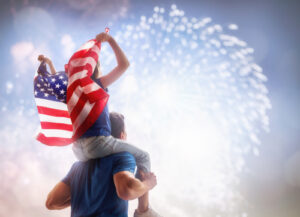 The Fourth of July is a federal holiday and many offices and businesses are closed for the celebration. Other establishments, however, take advantage of this major holiday and stay open to potentially increase sales, gain new customers, and keep existing customers happy. Some businesses also schedule special events to coincide with July 4th. Whether your doors are open or closed on Independence Day, make sure you have security guards at the ready to keep your property, merchandise, and services safe.
Prevent Fourth of July Thefts
Construction sites are usually closed on major holidays, and thieves and vandals know it. Burglaries and vandalism, from graffiti to smashing windshields, rise on July 4, leaving contractors and equipment rental businesses to discover a host of problems on July 5.
Any heavy equipment is a potential target for troublemakers, even people setting off fireworks in a seemingly abandoned lot for the night. When you have security guards posted at entrances and exits and accompany this live effort with security camera surveillance in real time, you'll keep your lots, equipment, and supplies safe until it's business as usual again.
Prepare for Rowdy Behavior at Special Events
If you aren't typically the business that celebrates Independence Day, but this year you've decided to take advantage of the holiday and see what kind of profits you can bring in, it's essential to think ahead about security guard coverage.
Planning a festival, an indoor-outdoor sale, or special after-hours events means the dynamic of your business will shift with the clientele you bring in – you might get people who aren't your typical customers or visitors. Going into these events with backup ensures that even if you have intoxicated guests, more guests than anticipated, or unexpected occurrences like fights, problems with the facilities, or low merchandise, you will have armed security guard coverage to diffuse problematic situations before they get out of hand.
Take Cues from Last Year's Happenings
If your business celebrates Independence Day annually by staying open, you know what to expect from customers, clients, visitors, or patrons – and sometimes it isn't all good. It's a security guard's job to prevent poor behavior from getting out of hand. You know from experience that you need serious, imposing figures at the ready who can help with health problems, arguments, drunk and disorderly behavior, and more, but also be on the lookout for threats to anyone's well-being, like active shooters, wayward vehicles, and excessive crowding.
Don't hesitate to advertise ahead of time that you will have armed and uniformed guards on site to monitor activity. You might be surprised to learn just how many patrons feel better about making their way to you when they know someone is watching out for them.
Should Your Business Stay Open on the Fourth of July?
As a business owner, you must weigh the pros and cons of keeping your doors open or having a special event on Independence Day. If you're not sure whether it's a smart move, talk through the details with Korner Security and find out how our security guards can deliver peace of mind. Contact us today.