Korner Security Tips: Keep Your Home Safe on Halloween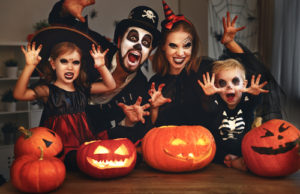 Vandalism and Halloween go hand-in-hand. Some of the acts are minor and simply annoying, like toilet paper in your front yard. Other behaviors are more destructive and could even lead to the need to file a police report or insurance claim. Here are tips to keep your home safe on Halloween so you can make sure it's truly a fun-filled night for you and your family.
Light Up
Keep your porch light on and turn on lights inside if you'll be home for the night and handing out candy. If you won't be home, still light up. Interior lights, outdoor solar sidewalk lights, motion sensors, and decorations will make it clear that you're feeling festive and you may or may not be home. Troublemakers and thieves prefer the dark and are more likely to steer clear of an illuminated house.
Opt for Porch Duty
Because of COVID-19, many homeowners set up tables at the end of their driveway to give out treat bags or simply hand out candy from their porch. This is a great system for security too because it lets you see exactly who's coming and they know you can see them. Keep your door locked and set up shop outside for the evening. You'll avoid any chance of someone trying to force their way inside your door in between handing out treats to little ghosts and zombies.
Get Your Car Off the Street
If you can, get your car off the street and into the garage to discourage vandalism like a keyed car, punctured tires, or a broken windshield. If you must use street parking, do your best to get a spot in a well-lit area to keep your car safe on Halloween. If your car is directly under a street light, no vandal will want to touch it and have a spotlight on them and their actions.
Make a Plan
Adults should always accompany younger kids while trick-or-treating. If your teens are headed out on their own, make sure their GPS is working on their phone so you can track their whereabouts and ensure that they're only going where you've told them it's okay to go. Once your entire crew is home, inspect their haul for odd items, unwrapped candies, and homemade items received from people you don't know.
Use Your Security System
If you have security cameras set up outside your house, make sure they're working and turned on so you can be alerted immediately if someone is at your front door or on the premises outside of trick-or-treating hours. In most cases, pranksters who see themselves being recorded will move on to another house so they don't get caught causing trouble. Arm your home alarm if you're going to be away.
Hire a Security Guard
If you're planning to have a party, inside or outside, or you and your neighborhood would like some extra eyes in your area on Halloween, hire a uniformed Korner Security guard to keep your property safe and secure and prevent problems from occurring. Neighborhood watches are great, but adding security guards who are attuned to suspicious activity will keep you all safer. Contact us today to discuss your needs and we will help you develop a plan to make this a truly Happy Halloween.