Improve Customer Service by Hiring Security Guards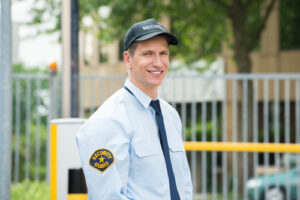 Every retail enterprise, hospitality establishment, or business in the leisure industry wants to be known for delivering excellent customer service. This benefit comes from more than just well-trained employees stationed behind the counter or working the floor. Great customer service feels also come from having security guards as a fixture at your place of business.
Make a Good First Impression
Security guards are not hidden in corners. They are visible right away upon entering a parking lot or a building. They make it clear that nonsense will not be tolerated, and they make it obvious they're looking out for everyone's safety simultaneously. Uniformed security guards send a message about the kind of upstanding business you're running and make it clear to customers, even without a word, that they are there to help.
Provide Automatic Comfort
Armed security guards create an environment of ease for patrons who want to trust that the place they're visiting is well-protected and watched over so they can enjoy their time shopping, resting, or touring without worrying about theft or active shooters. In today's culture, these are common, valid concerns – disaster could strike without warning. A security guard creates a feeling that the worst can be deterred.
Prioritize Patrons
Protecting a property or person is always about putting the customer first. Security guards make it clear that a visitor's health, safety, and overall well-being is paramount. No one wants to think of their enterprise as a place that needs to be secured or monitored, but adding security guards visibly to your interior or exterior helps keep the peace and prevent problems from developing. Adding security camera surveillance helps even more.
Deliver Information
Customers truly feel at ease in new or unfamiliar places when someone offers them assistance from the moment they arrive. This could be the security guard on duty in the parking lot, standing guard at the front doors, or stationed by the checkout counters, front desk, or ticket counter. Security guards often serve as a point of contact or reference among customers, doing everything from pointing people in the right direction to walking someone to their car at night.
Offer Support and Understanding
When someone is stressed out about their experience in your place of business, the first person they speak to may be your security guard. They may seek them out specifically, remembering where they were stationed upon entering, and look for guidance and reassurance as they deal with whatever concern has arisen. Knowing there is someone on their side makes customers feel better in times of need, and feel fondly about their experience at your establishment.
Good Customer Service Comes from Good Security Guards
Trained security guards are prepared to be the security personnel you need most in every moment. If you want a friendly guard, a chatty guard, a silent guard, a guard who likes working outdoors – all of these parameters are possible, and then some. Talk to the security experts at Korner Security, serving the Detroit Metro area, and book the professionals you need most to boost your customer service reputation today.