Hospital Security Guards Are More Important Than Ever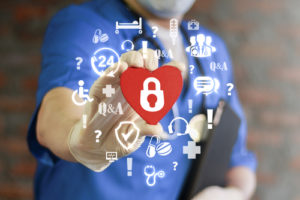 Hospitals and medical centers have always been places that warrant around-the-clock security. In the time of COVID-19, there is an even greater need for a uniformed security guard presence to protect patients, visitors, medical staff, and employees from danger, both inside and outside facilities.
The Importance of Healthcare Security Guards
Hospitals face unique threats in the best of times. With an open-door policy, any person who comes through the doors could be a potential safety concern for the well-being of anyone in the building. Hospitals are powerful but vulnerable institutions that are susceptible to violence and crime from visitors and sometimes even patients and staff.
Having proactive security guards on the premises ensures that someone is always at the ready to handle risky situations as they develop, like drug thefts, aggressive patients, or violent visitors.
Security Guards in Emergency Rooms
The hospital emergency room and waiting area are terrifying places in the time of coronavirus. Patients and their loved ones are unwell, anxious, scared, and impatient. These crowded environments are full of visitors, nurses, and staff. There is stress and noise in the air that adds to discomfort of patients.
Security guards maintain the order of this tricky space. Their presence alone is a powerful relief to those who feel unsafe at a hospital, while guards also manage crowd control, traffic problems, and handle any arguments that develop.
Managing Highly Charged Patients and Visitors
Sick people can be emotional, but their loved ones are sometimes even more emotional. The extreme feelings people experience on the delivery of bad news can turn into physical violence, posing a threat to themselves, healthcare professionals, staff, patients, and visitors.
Trained and armed security guards are prepared to use all measures necessary to calm people down or, if necessary, safely escort them from the building. Whether they're stationed at the front door or front desk, visible security guards help keep the peace.
Offering Guidance
An essential security guard duty is helping people get to the part of the hospital they're trying to reach. From guiding people to labor and delivery or treatment rooms on the right wing or floor, this task is incredibly important. In most cases, medical needs are a matter of urgency or at least timeliness. Security guards assist already overwhelmed patients and visitors, elderly patients, and handicapped patients reach their destination without causing them further distress.
Managing Parking Lots
Hospital parking lots are usually quite large and clearly marked, but it's easy to get lost, end up in the wrong place, or not be able to find your vehicle, especially for people who are distraught. Security guards assist in these departments, but they also monitor the comings and goings of vehicles in the parking lots and patrol them all hours of the day and night to ensure that there are no threats to safety.
Korner Security Guards for Your Hospital
There is no end to the number of important jobs assigned to hospital security guards. From controlling access to unauthorized areas to checking IDs and badges, from protecting sensitive information to preventing theft and violence, their role is critical to a smooth-running hospital or medical facility.
Korner Security guards are prepared to deliver the high-quality security services you need in these sensitive times. Contact Korner Security to learn more about short- or long-term security.