Holiday Safety Tips for Traveling Families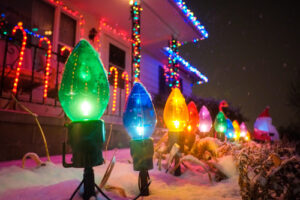 Everyone knows how to keep themselves and their family safe, but it's easy to forget those basics when you're busy, exhausted, stressed out, and preparing for travel during the holidays. Korner Security offers holiday safety tips for homeowners, so you don't put your home or loved ones at risk when you're supposed to be reveling in each other's company and joy.
Keep Quiet on Social Media
It's understandable that you want to shout it from the rooftops if you're going home for the first time in years or finally going on that tropical family vacation. Unfortunately, anyone who follows you – and anyone who doesn't – will also know when you're in your home and when you've vacated it.
Try to keep mum about your plans, or at least be vague (e.g., "Can't wait to meet my new niece!" instead of "Can't wait to meet Sally, my new niece, at Mom's house in Chicago on Christmas Day!") The more specific you are, the less heavy lifting any wannabe thieves must do.
Pay Attention to Your Packages
You have no control over when mail or packages will arrive at your home. If you know you'll be traveling though, do your best to have all deliveries wrapped up several days before you depart. There shouldn't be anything sitting unclaimed on your porch while you're gone, not just because it might get stolen but because it's a clear sign that you're not home to collect it.
If you've done your best to organize shipments and they're still due to arrive when you're not around, ask a neighbor or friend to collect them for you. If you'll really be gone for a while, put all your mail on hold for the duration.
Get Timers for Your Lights
Timers are such an easy fix for your home when you're away, whether during the holidays or any time of year. Put a timer on your Christmas tree or outside lights or a few strategically placed lamps. Make it look like there are bodies in the house with a sporadic lights-on system that you can control through your smartphone.
Estates that are dark are easy to invade, but homes where lights come on unexpectedly are stressful for bad guys and they don't want to deal with anything unpredictable in their mission to breach your house.
Be Strategic About Decorations
Those giant blow-up decorations for the yard are fun, but they're a dead giveaway that you're not on the premises if they're lying flat in the cold on Christmas Day. Tolerate a slightly higher electric bill for the season and leave them on during your absence or use timers (see above). You could also hunt for a neighbor kid who's up for some extra cash and pay them to turn on your outdoor lights while you're away.
Hire Korner Security Over the Holidays
Korner Security serves Detroit area homes, offices, and businesses, protecting your property and possessions and people 24/7. Contact us today to learn more and make a plan that suits your holiday season.