Expect a Customized Security Plan from Your Security Guard Company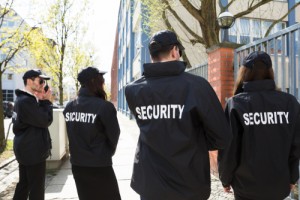 Every company, client, and situation that calls for security guards is unique. There is no one-size-fits-all when it comes to security. Certainly, there are boxes to check for every job, but the work that any security guard does for your company should be customized to your needs. If you need a guard on site, you need a plan to make the job they do as impactful as possible. Don't settle for less than a customized security plan from your security guard company.
Ask for the Security Plan You Want
If you have reached the point where you are hiring a Korner Security guard or security team, then you already have needs you are concerned about or you're reacting to a situation that made you realize 24/7 armed security guards were a must.
Knowing that you need security and understanding what security can do for you are two different things. You may be unfamiliar with the services that are possible, but you do have a checklist of what you want from a security guard. Don't be afraid to voice it, to make all your objectives clear, whether it includes live guards, armed guards, unarmed guards, uniformed guards, video surveillance, or all the above.
Regularly Reinforce Your Security Goals
Depending on the rotation of guards on your property or at your site, you may have several people working in your interests or dozens. Security guards will come with the training they are required to have to serve you well, but some of the learning is done on the job – becoming familiar with the territory, the faces that come and go, the nuances of every situation.
Make your expectations known and reinforce them regularly. Certainly, security guards on the same job communicate with each other, but your voice and your needs must be heard firsthand by your entire team. A direct delivery of your security goals is essential to ensure that security is going down the way you want.
For example, a security guard at a car dealership will be expected to monitor the lots and the comings and goings of visitors. Are you especially concerned, however, with the proprietary information in the offices? Do you suspect some untoward behavior in the service center? Your needs can fluctuate and change over time, or even from day to day. Make your goals known so your security guards can do the best possible job for you.
Get Customized Security Solutions from Korner Security
From schools to strip malls, construction sites to car dealerships, churches to funeral homes, Korner Security guards protect your visitors, employees, residents, students, clients, and customers. Guards emanate authority and ensure that your security needs are met, day to night, around the clock.
When you are ready to discuss a customized security plan using Korner Security guards and surveillance, contact us to schedule your consultation.