Every Security Guard's New Job: Mask Enforcement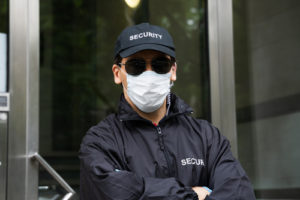 While security guards have different responsibilities depending on the location of their job, the time of day they're in that position, and the number of people who come and go on their watch, there is one thing they all have in common now in the pandemic – mask enforcement.
The Job of Enforcing Pandemic Protocols
Security guards are on the front lines of the public war on mask mandates. Even for places that have clearly established rules about "no mask, no entry," it is now almost a necessity to have someone in uniform reinforcing this reality. Security guards, instead of blending into the background and looking out for shoplifters and other small crimes, are now observing customer behavior in new ways. Here's why:
Retailers are reluctant to put their store clerks in the position of confronting customers about mask wearing.
Security guards have emerged as the first line of defense and are now engaging in direct intervention when it comes to enforcing mask-wearing and social-distancing requirements.
Retailers want security guards to hold up their own store's policies, as well as community and state mandates.
A Security Guard's New Pandemic Duties
There is a lot more pressure in general on security guards during the pandemic, and their work must now be done at a distance and delicately. They have even turned into temporary public health officials. Some tasks may include:
Enforcing mask wearing.
Monitoring customers allowed inside a building at one time.
Controlling waiting lines outside.
Enforcing social distancing.
Checking customers' temperatures.
Many guards are being asked to adopt calm, non-confrontational tones with customers emphasizing the new rules and expectations of entry to keep all shoppers and employees safe.
If a security guard is not hired to enforce pandemic rules alone, they may also be expected to do their regular security jobs, like loss prevention, signing people into buildings or parking lots, manning entries and exits, monitoring video surveillance, and so much more. A security guard's job has become even more taxing since patrons who are wearing masks are harder to read. Their faces don't give away their intentions as they may have in the past and spotting a suspicious person is far more difficult.
The Evolution of the Pandemic Security Guard
From car dealerships to schools, strip malls to front desks, business owners know they need security guards to help enforce pandemic protocols. Tempers are high. Citizens have opinions. And security guards are needed to keep assure compliance and keep the peace.
When verbal arguments, physical fights, and much worse break out in public places, already struggling establishments suffer even more. Hiring security guards as a consistent level of enforcement is a no-brainer. Their presence has become a line item on the monthly budget rather than an extravagance at certain busy or crowded times of the year.
There are many circumstances that have come together over the last year to create a perfect storm of danger zones in the places where people once felt the safest. Have Korner Security guards in place to protect you, employees, residents, customers, and visitors from ongoing threats – political, cultural, and health. Contact us today to develop a customized security plan.