Don't Skimp on Security Guards for Black Friday Weekend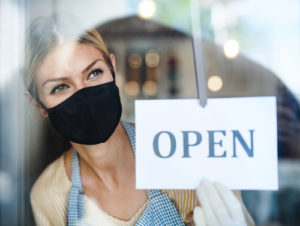 The Black Friday shopping weekend will look different in 2020. Pandemic restrictions will impede retailers who rely on increased customer flow at their brick-and-mortar stores after Thanksgiving, and the smaller crowds could create a false sense of security. Even if you anticipate smaller numbers this year, it's important to keep security guards on the premises to enforce old and new safety parameters alike.
A Different Kind of Crowd Control
The people who do show up to shop in person on Black Friday weekend are the serious shoppers. They have deals in mind that they intend to snatch up, and nothing will stop them from getting what they want – not even COVID-19.
Crowd control is critical when you have determined customers who are too excited to follow the rules. Depending on the size of your store, lines may need to be arranged outside your main doors and into the common area or even outside. Security guards keep people in line and away from each other.
This year, security guards on Black Friday weekend are needed for more than stopping customer violence or altercations, they are critical to maintaining safety to avoid the spread of COVID-19. Armed and uniformed guards send the message that you are serious about taking care of consumers and your premises.
Social Distancing on Black Friday Weekend
Shopping used to be a bustling, jostling, people bumping into each other adventure. Now, it's critical to ensure that your customers keep their distance from each other. While signage will help with this measure, it won't be enough. Distracted customers won't always look down or up to see the arrows or read the signs telling them where to stand or how far to distance themselves from the next customer. Security guards will be an important resource in enforcing social distancing measures.
Preventing Holiday Shopping Thefts
Without crowd cover giving them great opportunities to stuff something under their jacket or in their bag without paying for it, thieves will have to get creative this year if they want to sneak out of your store with a coveted item or two.
Having security guards and more wide-open spaces will help cut down on thefts throughout the holiday season. Rely on those extra sets of eyes, and also display signage notifying patrons of your video surveillance systems.
Maintaining Order in the Parking Lot
People won't be scared to get close to one another in their vehicles. Parking lots will be crowded on Black Friday weekend, even though some people may be waiting for their turn to shop or hanging out in their cars. With security guards monitoring the parking areas, customers are more likely to be on their best behavior when hunting for a parking spot or maneuvering in tight areas, which helps prevent fender-benders and altercations between customers.
Hire Korner Security for Black Friday Weekend
Contact Korner Security to discuss the security needs of your retail environment so, together, we can develop a plan to keep your customers, staff, and store safe during Black Friday weekend and all through the holiday shopping season.