Don't Rely on Luck, Rely on Security Guards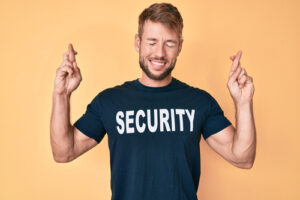 You are lucky that your business has always been safe. You are lucky that your building has never been vandalized. You are lucky that no one has ever threatened the safety of your patrons, residents, or employees. Luck is a weightless, arbitrary, unreal thing – but when it comes to true safety, you make your own good luck when you have security guards on your side.
True Luck Comes from Securing the Premises
Having a good track record free of violence, threats, or confrontation is amazing. If you've managed this far without security guards, it's also extremely lucky. The only way to confirm that your car dealership or house of worship or school or office building is truly safe and secure is by having uniformed security guards on the premises.
Some places choose 24/7 security guards, like the front desks of apartment buildings. Some places have security during business hours, like retail spaces. Some have guards on patrol overnight and rely on security camera surveillance too, especially car dealerships. Whatever the combination, having your security needs covered completely instead of hoping that everything will work out okay is the smart move.
Make a Plan That Works
Experienced security teams know that the safety of your premises begins with a targeted plan and considerations such as:
Location of your establishment
Level of crime in the area
Previous threats or security breaches
Level of foot traffic
If there are poorly lit areas
Whether you have multiple entrances and exits
There is no way to predict what might happen at your business, church, construction site, funeral home, or otherwise. But you can prepare for the worst and trust that, should anything go wrong, your on-site security guard is there to manage the problem.
Security Guards Fill in the Blanks
You may not want to feel like you need security guards at your store or in your parking lot or patrolling your building, but it's so much better to be safe in today's climate. Your patrons, employees, or residents will feel safer knowing that they're being watched over, and you will automatically deter the less-determined vandals and thieves who are seeking small windows of opportunity to strike and conduct their misdeeds. Sometimes, the mere presence of a security guard is enough to put everyone at ease.
It's not easy to ensure that every last thing is happening in your establishment on your employees' watches. Sometimes, outsourcing the matter of security is your only – and best – option. A uniformed guard at the front door, for example, sends a message to everyone on site – that you are serious about security and there is always someone watching.
Contact Korner Security to talk about a customized security plan for your establishment, whether you need a daytime guard, after-hours guard, or 24/7 patrol. Our guards provide targeted service so you, your employees, patrons, and visitors always feel safe.