Choose a New Career in the New Year: Become a Security Guard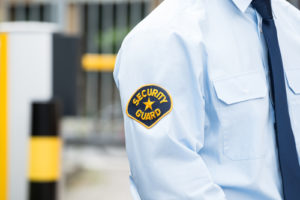 Security personnel provide a worthwhile and necessary service to the public, whether uniformed or undercover, armed or unarmed. A security guard has power and clout, and their most important role is to maintain public safety. If you're considering a career change, or you're looking for a jumping-off point for a career in private investigation or law enforcement, working as a security guard may be the right choice for you.
Customize Your Security Guard Job
Every security guard position comes with its own unique set of parameters. Where one job will require the monitoring of entrances and exits, another will require watching video surveillance footage in real time. Some guards will be expected to multitask, while others will have one main duty to enforce.
Because there are so many types of security guard positions, this is a career that you can explore to find the job that works best for you. Here are some points to consider:
Maybe you thrive on variety, in which case you'll be interested in making yourself available for short-term, rotating security positions, guarding a private estate one day, a car dealership the next.
Perhaps you are good at focus and consistency, so you will want a long-term posting, like a front desk guard, where the duties are the same from day to day.
If you're an extrovert and enjoy interacting with people, you may want to be stationed where you have the opportunity to engage, direct, and guide, screening and greeting people, ensuring that everyone in a building or on a premises is supposed to be there. You may want to work at a school or hospital, where comings and goings are frequent and downtime is rare.
If you're more introverted and prefer a solitary job with as little person-to-person interaction as possible, there is a security guard position for you. A late-night gig, which includes patrolling the empty premises you're protecting and guarding against potential threats, can be the job of your dreams. You can do your work without having to interact with more people than necessary.
Types of Jobs for a Security Guard
Working in security can be a flexible career for those who choose a guard position as a second job or while going to school. Security guards are needed around the clock, so there will always be a job that suits your schedule, no matter what time of day you're available to work.
Some of the most common places where security guards are stationed include:
Construction sites
Vacant buildings
Residential buildings
Strip malls and stores
Schools
Funeral homes
Places of worship
Whether you are tasked with crowd control or access control, customer service or visitor management, crime deterrence or surveillance, the job of a security guard is a critical one.
Become a Korner Security Guard
Korner Security is accepting resumes for security officers and armed security officers. Both are uniformed positions. Contact us today to learn more about security guard job opportunities with our firm.