Car Dealerships Video Security
The Fallacy of Digital Video Security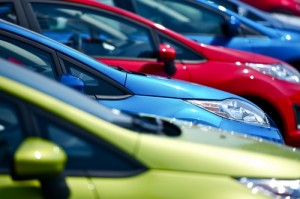 If you own/operate a large car dealership in an urban setting. You need to protect your vehicle assets 24/7. You smartly watch your company's bottom line. Car dealerships video security is a fallacy that you should not fall victim too.
What is the most secure-and most economical-way to protect your dealership?—Trained, boots-on-the ground Car Dealership Security Officers.
Today, digital video companies are 'hard selling' dealership managers that their digital cameras can monitor your dealership from across the country-at less cost than security guards. It is an attractive sales pitch—but it simply does not work. Here's why-
Car Dealerships Video Security – just eye candy for your smart phone
Video cameras that show up on your iPhone, your iPad, may be impressive-but they do not genuinely protect your vehicles from theft, parts-theft, or vandalism. Nor do those cameras, monitored half across the nation, protect your evening and late night browsers, who are your next day car buyers.
In spite of the sales pitch, those surveillance cameras are not "monitored"; rather they are set up to 'alarm and alert' a human who is likely monitoring hundreds of screens. What this means is that the cameras at your dealership are not being watched by an officer in real time. Those cameras are algorithmically programmed so that after numerous algorithmic 'hits' occur, it finally alerts the video surveillance employee to check the monitor covering your car lot… by then the criminal activity has already occurred!
A boots-on-the-ground trained officer in a brightly lit security vehicle with a lighted beacon always prevents criminal behavior and sends a strong visual message to your late night customers that they are welcome and they are protected while browsing your inventory.