Car Dealership Break-In Could Have Been Prevented with Security Guards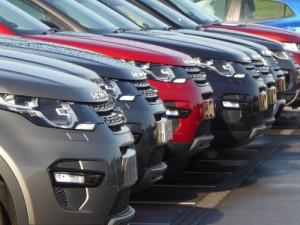 Teenage hijinks have escalated from egging houses and staying out beyond curfew to trespassing at a car dealership and destroying vehicles. The break-in at a Houston-area CarMax earlier this month proves that armed security guards can be the difference between cleaning up after costly vandalism and stopping it before it starts.
The Aftermath of Car Dealership Security Breach
Four underage Texas teens in Harris County, Texas, broke into a dealership on January 6, an act that was caught on surveillance cameras. The quartet stole keys and proceeded to play an expensive version of bumper cars, crashing their stolen vehicles into other cars on the lot.
More than 20 autos were smashed in the crime and the teens caused about $800,000 in damage, including vehicles with crushed front ends, scrapes, broken rearview mirrors, and more.
The suspects in the vandalism escaped on foot when deputies arrived on the scene. They were later caught and arrested before being moved to a juvenile detention center on felony charges of criminal mischief in the first degree.
Discourage Thieves with Armed, Uniformed Korner Security Guards
Security camera surveillance is an important part of business security. Cameras, alone, however, only provide evidence of wrongdoing. They don't stop crime in its tracks like a live, armed, uniformed guard.
The mere presence of Korner Security guards at a car dealership discourages would-be thieves and vandals from even planning to cause trouble by practicing anti-theft measures such as:
Patrolling the dealership on foot or by vehicle during business hours and after hours.
Watching inventory and supplies on the lot and in the garages and sales area.
Keeping a record of all visitors that enter and exit the premises, including deliveries.
Conducting routine inspections.
Watching for suspicious activity or atypical visitors to the dealership.
Identifying and quickly addressing potential threats.
Noting odd patterns of activity.
Using crime deterrents like alarms, audible announcements, and strobe lights.
What Thieves Want from Car Dealerships
There are more than cars to be stolen or vandalized at a car dealership. In fact, many of the crimes that occur at a car sales lot can happen on a less obvious level. Theft of tires, catalytic convertors, and other valuable vehicle parts are common, especially if they're stored in an area that is often left unattended.
Proprietary information within the dealership is up for grabs too – computers, files, customer information, ordering details, company information. Car dealership theft doesn't have to involve cars alone.
Security guards watch for untoward behavior, but they also keep an eye on employees who are sometimes at the root of auto theft or the taking of supplies and equipment.
Protect Your Car Dealership from Vandalism and Theft with Korner Security Guards
Whether your dealership is large or small, gated or ungated, in a high-crime or low-crime area, there is always potential for a breach of your premises, buildings, and systems. Prevent loss and vandalism at your car dealership. Call us today to discuss a customized security plan using Korner Security guards and surveillance.