Be Ready for Social-Distancing Protests with a Security Guard Presence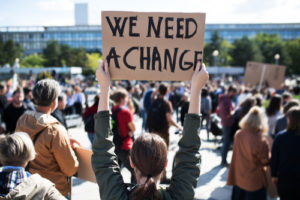 People are stuck at home because of COVID-19, and some have begun protesting to show their displeasure. Michigan is a hot spot for disgruntled citizens. Protestors have gathered at the state capitol, making it clear they are no longer tolerant of the measures that have closed non-essential businesses and urged residents to stay home. It's only a matter of time before these highly charged gatherings become dangerous, frequent, and widespread – armed Korner Security guards are a necessity in such troubled times.
The Fallout from Public Protests
In the best of times, public protests are incredibly dangerous. Even the peaceful ones can turn not-so-peaceful very quickly. Participants and bystanders get hurt and trampled because of restless crowds or fights that break out. The same dangers exist now during the COVID-19 pandemic, and then some.
The biggest concern with the latest public protests is, of course, that they could further spread the coronavirus with the gathering of large numbers in the same place. An uptick in people being diagnosed and hospitalized with COVID-19 will do nothing to reduce the imposed stay-at-home orders and other restrictions that these protestors desperately want removed. The most aggrieved protestors, though, seem not to worry about any of this – they want their state officials to know how they feel about the measures being taken, and to change things.
When citizens don't get what they want and don't feel heard, a natural next step for many is to protest.
Who Needs Security Guards During COVID-19?
All of us, deep down, could find a very good reason to take to the streets and protest COVID-19. It has affected everyone in a negative way – they're not all the same reasons, but everyone has some anger about it. Though most citizens will observe the rules handed down to keep themselves and their loved ones safe, others feel the need to speak up – businesses must be ready for these groups.
Security guards will help your business – whether it's open or temporarily shuttered – stay safe and intact through:
De-escalation skills: Supermarkets and hospitals are two places that have higher traffic, and anxious traffic. Though most people are doing a good job of steering clear of each other, security guards are present to stop a problem before it gets out of hand is essential in environments that are already full of stress and tension.
Risk assessment: Protestors may mean well, but they may do harm to the enterprise they're trying to defend and protect in the process. Security guards are prepared to assess the risk that one person or several people pose to a business or area to help protect everyone else in the vicinity.
Analyze threats: Chaos is a great time for thieves and vandals to strike. Security guards, often in combination with surveillance equipment, can protect a business and its assets from backdoor threats before they become a reality.
Korner Security guards are prepared to deliver the high-quality security services you need to protect your business, your people, and you. Contact Korner Security to learn more about short- or long-term security.