Arm Your Retail Space with Korner Security Guards on Black Friday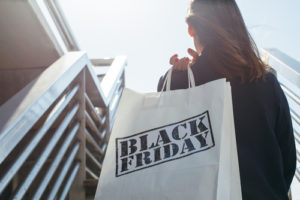 Black Friday is the biggest shopping holiday every year. The sales are record-breaking. The excess is ever-present. The crowds are legendary. And problems are inevitable. Having Korner Security guards on the premises during this high-energy consumer weekend is essential.
Crowd Control
There is a Black Friday Death Count website that tallies the number of fatalities and injuries that occur over the shopping weekend. Shootings. Stabbings. Beatings. Physical altercations. This should not be the stuff of a holiday shopping expedition, but it is, every year.
Crowd control is a must on Black Friday. You can put extra stanchions in place, post signage, and limit the number of people who are in your retail space at one time, but you can't trust that excited, determined consumers will police themselves, or follow the established rules.
Security guards ensure that your guidelines are followed. They stop customer violence before it begins, squash it quickly when it does, and minimize the risk of injury and worse. It's a retailer's duty to their patrons to take care of their safety – armed and uniformed security guards get the message across and the job done.
Prevent Theft
Plenty of customers mean plenty of sales – but they also create an environment that is ripe for retail theft. Shoplifting is a major concern. With security guards in place, thieves have a much harder time getting away with swiping merchandise. Extra sets of eyes – and clear signage alerting customers to your video surveillance security system – can make the message clear that this isn't the place to try and grab stuff for free.
Manage Parking
Parking lots fill up and can overflow. Security guards perform the important jobs of managing access to and from lots – even if you don't normally have a monitored parking area. Car accidents happen in parking lots, and so does road rage – especially when rushing or disgruntled customers are in the mix. Whether your business is in a shopping mall, strip mall, or has a dedicated parking lot, consider how managing parking can improve your customers' shopping experience and keep them safe – and you free from liability.
Prevent Property Damage
It's funny to see a hoard of customers charging a store's front doors on Black Friday – when it's on TV comedy or in a movie. In real life, this scenario is never ideal, and it's a recipe for damage to people and property. Alert and strategically positioned security guards protect your merchandise and premises from avoidable damage and destruction, keeping shoppers on their best behavior and stopping problems before they escalate.
Hire Korner Security Guards for Black Friday
You want to be profitable on Black Friday. You want your customers to find what they need and enjoy their shopping experience. You don't want to be the store that's featured on the local news because of a disaster during the busy holiday weekend.
Keep your customers, employees, and store safe and secure on Black Friday, Saturday, Sunday, and into the holiday season. Contact Korner Security to create your customized security plan.