Add Security Guards at Bars and Restaurants on St. Patrick's Day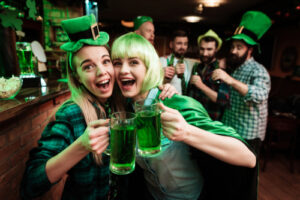 St. Patrick's Day falls on a Friday in 2023, which means the revelry that the Irish and all their friends like to engage in will be even more raucous than usual. Bars and restaurants will reap the monetary rewards of a busy night, but this is also a high-risk time for theft and security breaches. If your establishment actively celebrates March 17 and you expect a crowd, get a solid plan in place with the following security guard safety tips.
Increase Security Guard Presence
If your place of business draws a crowd on St. Patrick's Day, it's worth the effort to bulk up on physically present security guards to keep your establishment problem-free, your assets secure, and your patrons safe. Foot traffic will be heavier than normal and intoxicated patrons will be many.
Even if your digs are small, even if you have bouncers, make the smart choice to post a security guard at the door, in the parking lot, and within the establishment where they can monitor cash registers, check locked doors and windows, keep guests out from behind the bar, and manage patron behavior. More security guards means theft and vandalism prevention and enhanced staff and patron safety.
Be Prepared for Chaos Inside and Out
On March 17, people celebrate their luck, heritage, or just love a good excuse to overindulge on a festive holiday. This day is also a pot of gold for any business that welcomes revelers, but it can be a serious liability too should a customer drink enough to fall, get behind the wheel, or start a fight.
Having more security personnel onsite than usual means both the outside and interior of your establishment can be fully monitored for the whole evening. And, should any problems occur, a guard is trained to defuse the situation right away and call emergency personnel as needed.
You can also have a dedicated security guard keeping a close eye on your security system. Consider implementing heightened access control measures like keycards to restrict access further for unauthorized individuals.
Reassure Guests
Extra security presence on major holidays is not a deterrent to guests who are worried about what you know that they don't – it's the opposite. Uniformed security guards send the message that there will be no shenanigans beyond what's reasonably acceptable and that any potential emergencies will be efficiently handled, and these feelings make all patrons feel more comfortable about spending time at your bar or restaurant for St. Patrick's Day.
There is plenty of time to hire guards and get them in place for March 17 and advertise that you will have increased security for a safer, happier, freer celebration of St. Patrick's Day. People will choose your place of business because you've made them feel like they can truly enjoy themselves without worrying about anything scary erupting.
Create a St. Patrick's Day Security Plan
Be prepared for all potential problems on St. Patrick's Day with heightened security measures. Whether your crowd is large or small, rowdy or controlled, there are always potential threats that can occur, from fights to active shooter situations. Make your patrons feel good about spending time at your bar or restaurant. Contact Korner Security today to make a plan.