7 Reasons to Be Thankful for Security Guards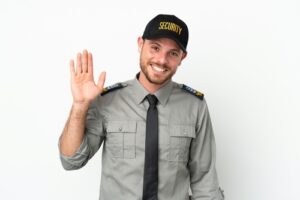 Security guards watch over the public and property, from schools to apartment buildings, offices to shopping malls. These professionals are often the first line of defense when it comes to emergencies and threats to public safety. Here are just some of the reasons to be thankful for security guards, whether they are visible or behind the scenes, doing the tasks that keep us safe.
1. Patrol Designated Areas
From stairwells to empty lots, stores to parking areas, security guards are given designated areas to patrol. Their presence and their rounds deter suspicious activity and help maintain security, especially after hours or during the quietest or busiest times.
2. Maintain Order
Think about crowded concerts, busy Black Friday weekend, or college move-in day. Security guards maintain order, ensure rules and regulations, and help people avoid violations so that everyone in the vicinity stays safe and is where they are supposed to be. The guards have the authority to discipline, eject, or detain someone who is disorderly, intoxicated, or causing trouble or chaos. Their quick thinking and actions prevent fights and riots and help people feel safe and secure, especially at large or highly charged events.
3. Provide Public Safety
Security guards can be hired to serve as guards for individuals, often VIPs or celebrities. Every life, though, is important, and security guards tend to the general public in a host of places – banks, grocery stores, restaurants, hotels, and more. Their expertise is in assessing danger by observing the general public and their behaviors, a skill that provides an incredible level of public safety.
4. Prevent Crime
Security officers are a physical deterrent and the presence of even one security guard can reduce the likelihood of crime, theft, and vandalism. When a uniformed, armed guard is on site, there is a far lesser chance that a potential criminal will attempt to cause trouble.
5. Deliver First Aid
Many security guards are certified in first aid and life-saving measures that tend to injuries and, in some cases, prevent death. In many emergency circumstances, a guard is the first responder on the scene, the one who waits with the injured party for paramedics or police officers to arrive and offers care. Their training can save lives.
6. Provide Emergency Management
It is necessary to have someone calm in the face of danger, natural disasters, or health emergencies. Security guards fit this bill, immediately acting to maintain order during a crisis. They keep a level head and exhibit a low-key demeanor so they can lead others to safety and keep premises clear for emergency teams.
7. Minimize Stress
Unfamiliar environments and crowded establishments – from concert venues to festivals to Black Friday lines – can make a person wary about their safety and the safety of their loved ones. Seeing a uniformed security guard on site goes a long way toward minimizing stress levels because you know there is an authority figure present to manage an influx of people and highly charged situations.
Hire Security Guards for Your Holiday Needs
This is the time of year to amp up your security. Get a customized plan put together by the experts at Korner Security, serving the Detroit area. Contact us today to learn more – you'll be thankful for the options available to you.