5 Reasons to Love Working as a Security Guard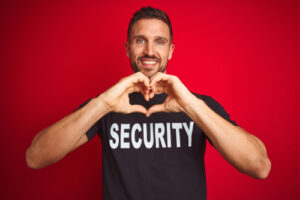 Everyone has their own reasons for pursuing a job in the security field. However, there are some points across the board that make it clear why this is a worthwhile profession that people love once they're officially on the job. Here are just some of the reasons to love working in a security guard job.
1. It's Rewarding to Protect People
Whether you're stationed at a hospital, shopping center, construction site, or any other place of business, your main job is to protect the people and property that surround you. Your presence creates peace of mind for employees, visitors, residents, and guests and deters thieves, vandals, and other criminals from causing trouble.
2. You're Forced to Focus
Want to stay sharp? Enhance your skills of observation and concentration? Working as a security guard demands that you stay focused and maintain excellent reflexes, good concentration, and sound judgment. Honing your gut instinct on the job helps prevent harmful incidents from occurring and allows you to easily spot a troublemaker or area of concern before it gets out of hand.
3. You Thrive on Adventure
Security guard jobs are not sit-back-and-relax positions. These jobs are about staying alert and aware at all times. If you're looking for adventure, you'll find it in the security field. Chaos is always just one step away and the constant vigilance of an experienced security guard prevents problems from occurring. Many people thrive on this responsibility – whether midnight or very cold, sunrise or very hot – to thwart issues, be the first line of defense, and protect people and assets.
4. You're a People Person
Some security guard positions do not require any interaction with other people, especially if they're after-hours jobs. Other guards interact with people around the clock, making small talk, providing assistance, delivering information, walking people to their cards, offering directions, and more. If you'd rather interact than be still, there is a security job for you.
5. You Enjoy a Changing Role
There are times when a security guard is assigned a position and stays there for months or years. Other guards prefer things to change regularly and find themselves in new places with different responsibilities from job to job. You can get the kind of position that satisfies you and satisfies the needs of a client, whether you want to manage traffic flow, have concierge duty, or guide customers.
Get the Security Guard Role You Want
Working as a security guard is a flexible profession, especially if you're working security as a second job. There is always a position that will fit with your schedule, preferences, and comfort level. There is variety within the field, from stationary positions to being active, and you receive the kind of crisis training that makes you an excellent candidate for other jobs. Ready to find out if security work is right for you? Contact Korner Security, serving the Detroit area, to learn more.