4 Ways to Improve the Safety of Your Gated Community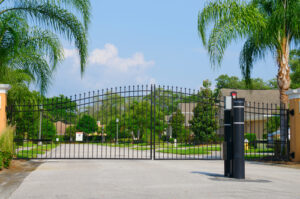 Gated communities are marketed as safer and more secure than any other residences. Nevertheless, the homes in these neighborhoods, no matter what size they are, are still vulnerable to trespassers, thieves, and vandals. That big, imposing gate and perimeter fence can always be breached by an enterprising criminal. Enhance the safety of your gated community with multiple security measures to truly protect everyone who lives inside.
1. Install Security Camera Surveillance
Electronic security camera surveillance offer multiple perks for anyone who's in charge of monitoring safety in a gated community, including:
View security on mobile devices or desktop browsers, on-site or remotely
View real-time and historical analytics from surveillance devices
View coverage of areas within and without the gated community
Track activity and program in alerts about suspicious activity
Maintain a video log of the comings and goings of vehicles
Modern surveillance systems are customized security programs that operate beautifully on their own – but they always work better with security guards. As a twofold system, electronic data is translated into actionable data by security guards. They also provide interactive monitoring of the premises with the support of video and analytics and maintain a strong presence as an authority figure on the premises.
2. Conduct Perimeter Checks
Gated communities are appealing to thieves. They know something good is behind those locked gates and they want to get their hands on it. They appreciate easy marks, but while the biggest and most dangerous draws sometimes have the most appeal, they are always willing to bet that somewhere there is a weakness.
Security guards who conduct regular perimeter checks at varying times can see security issues before they become a big problem. Their perimeter inspections allow them to spot vulnerabilities and make changes and repairs to prevent any intrusions. Guard efforts may show a need for more lights, brighter lights, increased fence height, and more.
3. Rely on Uniformed and Armed Security Guards
Suspicious activity? Potential trespasser? A security guard state acts as a dedicated response center for every resident so it's easier to report incidents and suspicious behavior. A 24/7, on-site, armed security guard is a point of contact for residents, an active and authoritative show of force. They want to know your security problems and they will handle them, taking the burden off any member of the gated community. Circulating the number of the security booth or security guard to call during emergencies also ensures residents of an instant response.
4. Hire Korner Security Guards for Gated Communities
Many people who live in gated communities want their security to be quiet and invisible – they want to know safety measures are there and that cameras and people are watching over their home, but they do not want security to be intrusive. The highly trained security guards at Korner Security are prepared to deliver the customized safety package that suits your needs and is discreet. Contact us today to get the security you need in your gated community.