4 Reasons to Hire Construction Site Security Guards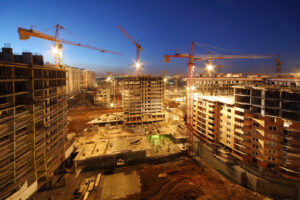 Construction sites are some of the most vulnerable places when it comes to theft, vandalism, and even violent crimes. With no boundaries and plenty of open access points, construction areas beckon to criminals and troublemakers. Having construction site security guards is a necessity.
1. Combat Darkness
Some construction areas are well-lit overnight, but many are plunged into darkness once the workers depart for the day and the sun goes down. This lack of illumination is a huge invitation to anyone who wants to cause trouble, whether enterprising thieves or mischievous teens. Your security team can develop a plan to improve safety after hours, which might include motion lights or timed lighting systems. Even if late-night construction site security guards are only equipped with an industrial flashlight, they are an effective deterrent to thieves.
2. Safeguard Equipment
There is a lot of equipment at a construction site. From heavy machines to tools, every element matters – and every element has a dollar value. Any thief who knows anything about construction areas is aware of what goodies they may be able to find if they spend some time scouring the site during downtime. What's valuable to any worker or construction company is valuable to a thief too. And then there are vandals, who might take a dare to graffiti walls and floors or smash the windows of dozers and excavators. No one wants to get caught, so they're more likely to pass by when they know a uniformed security guard is nearby.
3. Boost Morale
Workers on a construction site are often categorized as tough-as-nails, able to handle anything that comes their way. It helps, though, to know that someone has your back. Being surrounded by a few security guards allows workers to confidently conduct their work and leave it behind trusting that it will be exactly as they left it when they arrive the next day, all possessions intact. This knowledge and trust increase productivity for a more efficient workplace.
4. Improve Communication
Workers on a busy site are responsible for the area they're assigned to – but not everyone is aware of the best practices for safety and security. Part of a security guard's job is to communicate with everyone on the site and make it clear just how safety and security will be maintained at the building site. Protocols are clarified and workers are informed of measures that are being taken to deter criminal activities, day and night.
Avoid Setbacks with Construction Site Security Guards
Most construction sites are on a tight schedule. These time constraints are a burden that will be complicated by vandalism or theft. Any intruders or interruptions can be stopped by an on-site security guard before they occur. Having a professional walking the premises 24/7 helps ward off unnecessary downtime because of break-ins and other emergencies.
Construction sites have a lot going on, big and small. Security guards who are on the scene, especially after hours, are a critical part of safety and security. Contact Korner Security, serving the Detroit area, to begin building your customized security plan, which can include security cameras, armed guards, and more.