4 Reasons Front Desk Security Guards Are More Important Than Ever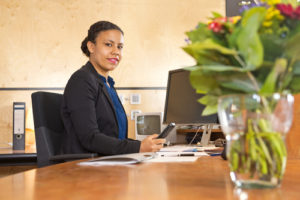 Your office building or apartment building may operate on the honor system, with no front desk security guard on site to monitor the comings and goings of visitors, residents, or employees. The world, however, is shifting dramatically, and safety measures must increase to ensure that everyone on the premises that you're responsible for stays safe. It's more important than ever to have a front desk security guard in place.
1. Everyone Could Use a Little Hospitality
In an increasingly hostile world, with fierce political divides and contrasting cultural beliefs, it can be incredibly nice to be greeted by a friendly front desk security guard every day. Whether the premises they guard are for apartments, offices, or otherwise, anyone who comes and goes in the building will appreciate a quick moment of kindness. Concierge security officers are a unique breed of professionals who deliver a high level of customer service while also providing protecting.
2. They Handle Multiple Tasks
Front-desk security guards can be tasked with a wide range of duties. Their job is an important one and gives peace of mind to the people within the building while also taking work off of their plate in some respects. Tasks can include:
Greeting, checking in, and directing visitors
Allowing only authorized personnel entry
Maintaining constant surveillance of assigned areas
Providing customer service for residents, visitors, or guests
Responding to calls for assistance
Protecting property from threats of all kinds
Monitoring surveillance cameras
Checking bags and packages, as needed
3. You Want People to Feel Safe
There are threats daily that develop in unexpected places. No one thinks anything bad will happen to them or that their place of work will be targeted by dangerous individuals. The presence of a security guard helps keep danger at bay, discouraging criminals, thieves, troublemakers, and threats from carrying out a plan or a last-minute decision to wreak havoc. When people enter a building that has a uniformed guard as the first line of defense, they will feel better and safer.
4. You Need to Enforce Mask Wearing and Vaccination
If you have hard-and-fast rules about mask wearing, vaccinations, or body temperature, you need someone to confirm that the people on the premises comply. With charged matters such as this, it helps to have a uniformed and armed security guard in place, even if the uniform is a suit and tie rather than a typical guard uniform. Their presence is a firm reminder of the rules. They enforce whatever is required so only people in compliance are permitted into the building.
Hire Front Desk Security Guards from Korner Security
From mixed-use properties to businesses, medical complexes to residential communities, sports facilities to government buildings, there are many places where front desk security guards are a major benefit. Contact Korner Security, serving the Detroit metro area, to discuss your security needs. We will develop a plan and team to help you maintain an excellent safety routine for your front desk and beyond.