3 Halloween Safety Tips from Korner Security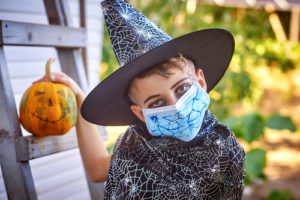 Halloween will be different in 2020. Less ringing of doorbells, more picking up candy bags in driveways. Fewer Halloween parties, more family get-togethers at home. Whatever way you choose to celebrate on October 31, it's important to keep safety in mind, especially since Halloween 2020c falls on a Saturday, the same night we fall back from Daylight Saving Time. Korner Security offers tips to keep you and your loved ones safe while you have fun.
Keep the Lights On
If you are inviting kids to trick or treat at your home, make sure you have as many lights as possible to guide their way. If you choose to use candles, lanterns, or anything flammable, use them safely and keep them out of kids' reach.
Make sure your own trick-or-treaters are armed with their own lights, whether you are out candy hunting alongside them or they're flying solo. Improve their visibility with glow-in-the-dark clothing, reflective tape, light-up bracelets and necklaces, and flashlights.
If you aren't participating in trick-or-treating and aren't handing out candy, keep your porch lights off to discourage visitors. However, whether you're staying home or not, the last thing you want is to leave your house completely dark and inviting to thieves and vandals. Leave a few lights on or the television to give the illusion of bodies in the house to discourage any dark deeds.
Follow COVID Safety Rules
Social distancing is important, even among you and your neighbors. Keep six feet between you and other people and keep your mask on, especially if you live somewhere with plenty of Halloween foot traffic. Remind your little ghosts and goblins of the rules so they stay as safe as possible throughout the night.
If your child's costume doesn't come with a mask, get creative and figure out a way to give them the gear they need to stay safe while out and about – especially if you won't be trick-or-treating alongside them. Remember, masks go with everything, and your child can be encouraged to wear their one-of-a-kind mask by decorating it to match their costume in preparation for trick-or-treating or getting a mask that is the focal point of their costume.
Hire a Uniformed Security Guard
You can never be too careful in a time when unrest and fear run strong. If you're worried about your neighborhood, building, or enterprise on Halloween night, hire a uniformed security guard for the holiday to help enforce the rules and maintain order. A strong security presence is proven to lower the chances of crimes and wrongdoings when a guard is patrolling designated areas and monitoring who's coming and going.
Korner Security is always at the ready, whether you're celebrating Halloween at home, school, or the office, whether you're going out of town or shuttering your doors for the night and need extra eyeballs on your place. Strange things happen on Halloween – but they don't have to when you have experienced security guards at the ready. Contact Korner Security to discuss your needs today.